When you move into a new living space, there are many special touches that you will thoughtfully add to turn your house into a home. The same rule applies when you are looking to update the look of your dwelling space so that it is reflective of your personality and tastes. Choosing the right furniture, floor coverings and art pieces are often a part of this process, but one of the most eye-catching ways to complete your room design and tie everything together, is through custom drapery designs.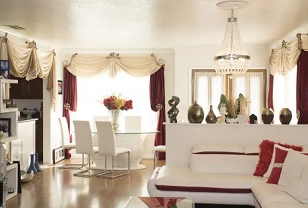 Curtains come in a wide array of styles, fabrics, and designs, and with Galaxy Design curtain decoration ideas, we can help you perfectly dress any size or shape of window in a few simple steps.
BROWSE OUR DESIGNS
Galaxy Designs is proud to offer window treatments that range from elegant to contemporary. You will find only the finest fabrics made of silks, polyester and other natural fabrics. We have patterns to complement any space and window style.
In addition, we offer many curtain styles, including swags, valances, panels, cornices and more. With Galaxy drapery designs, you can even choose motorized window treatment options. The combinations of designs are endless with Galaxy's elegant selections of fine fabrics and high end custom decorative hardware.
COMPLEMENTARY CONSULTATION
Once you have browsed our captivating Galaxy Design curtain decoration ideas, our professional and friendly design team will be pleased to join you for a complementary phone or video consultation. With your vision in mind, we will help you select the perfect DIY swag curtains or other drapery designs to complete your room decor.
Scroll to the bottom to see some of our amazing options!
Our specialists will guide you every step of the way from fabric, lining, and color selection to assisting you in choosing eye catching decorative hardware. With designs ranging from classic elegance to ornate hand painted hardware adorned with Swarovski crystals, no detail will be left ignored.
After your personalized consultation, our knowledgeable consultants will create a custom pallet of hues and fabric swatches for you to use in your home to make your final selections before ordering.
ORDER AND INSTALL
Once you have taken measurements and worked with your personal designer, we will assist you in placing your order. We offer complete custom window treatment packages, as well as a la carte items that include all hardware and simple step by step DIY installation instructions. If you are not comfortable with installing your curtains, we work with and can connect you to professional installers nationwide.
Galaxy Design is honored to partner with you in creating a living space that is beautifully polished and reflective of your unique style. We are thrilled to offer the personalized elegance and luxury of custom curated window treatments, made right here in the USA, to our customers nationwide. We don't want you to simply cover your windows, we want to help you dress them for success.
Like our tips? You can check out more here! https://youtu.be/NCGvebweiLM